The chatter probably started in 2017 amidst all of the other noise around tax reform (Tax Cuts and Jobs Act of 2017). The objective is to encourage business investment dollars into areas in need of revitalization by providing attractive tax benefits. That story has a familiar ring to it. So let me share with you the current twist and how it affects investors looking at the Arizona market specifically.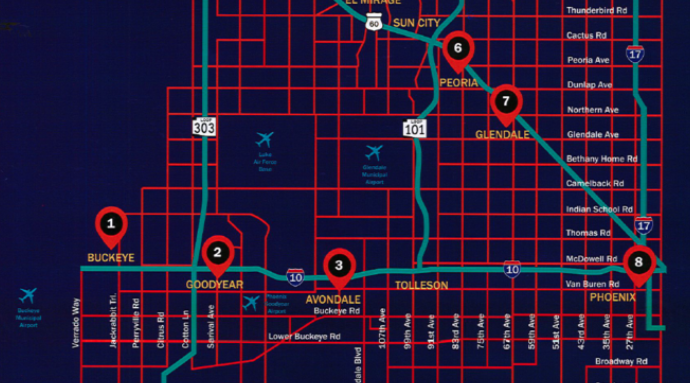 The Phoenix metropolitan area and Maricopa County has been on the high growth and fastest growing areas in the last several years. Maricopa County just completed its 3rd year in a row being named as the #1 fastest growing county in the US. Each state was asked to provide its nomination of areas to be approved as Qualified Opportunity Zones (QOZ) by March 2018 to the Treasury Dept. Once approved the QOZ designation could last for up to 10 years. The benefits are tremendous on their own and even more powerful if layered with other tax incentives offered by city or state municipalities (such as #AngelInvestors, #MilitaryReuseZone, #R&D, #QualityJobs, #Depreciation). The Arizona Commerce Authority continues to seek ways to make Arizona an attractive place for businesses to relocate, expand and grow here.
In a nutshell, an individual / business can take earnings from other assets (real estate, art, businesses, jewelry, etc) and potentially defer the taxes on those gains for up to 10 years because of the QOZ investment. See more specific details on the Community Development Financial Institutions Fund website or the IRS. Now that the bean counters have been given the info to source the details and due their own due diligence (because I am not providing tax or legal advice here), let's get to the good stuff.
There are multiple locations throughout the valley where businesses are being enticed to launch operations of a new company, or expand operations of an existing organization. The QOZ offers tax incentives to spur economic growth and drive competitive jobs to formerly economically challenged neighborhoods. This gives an alternative option for those that do not want to use a 1031 Exchange but still looking for tax breaks to defer capital gains and in some cases pay NO taxes on the investment appreciation.
Quick overview:
Investor can divest assets (real estate, mutual funds, stocks, or other investments)
Investor invests the capital gains within specified time frame of 180 days or less into a Qualified Opportunity Fund
Investment qualifies for tax incentives that increase with the length of the holding period
Commercial and industrial space is available by spec (move in ready in some cases) and in others developers are ready to build to suit. Locations and traffic visibility counts are available for review. Be sure to know that the city development teams across the valley are looking at both start up as well as established companies to drive growth. So if you are looking to launch that business idea, or expand into another area, this could be your chance to capitalize on recently implemented tax reform.
Call Laya Gavin at Team EXIT Realty Sun City at 623-552-3255 for more information on locations and incentives.
Team EXIT Realty Sun City is YOUR EXIT STRATEGY FROM TRADITIONAL REAL ESTATE. We are here to help you Buy / Sell / Invest in your next property.
Author: Laya Gavin (Published July 2019)
AZ Homes For Sale – Laya Gavin – REALTOR / Owner
Your Local Real Estate expert in Sun City, Sun City West, Sun City Grand, Surprise, Goodyear, Glendale, Buckeye and the surrounding cities of Phoenix and the Valley of the Sun. Dedicated to making sure you are working with a knowledgeable, local real estate professional, serving your best interests. To discuss your Real Estate needs, feel free to give me a call at Laya Gavin at (623)552-3255.
For all of the details on any Multiple Listing properties (commercial and residential) anywhere in the United States text "Laya" to the number 85377 and have it all right in the palm of your hand.
http://bit.ly/ERSC-MLSAccess – video
https://linktr.ee/layagavin – bio
www.exitrealtysuncityaz.com/ – team website
http://bit.ly/ERSC-SellersGuide – information guide for sellers
http://bit.ly/ERSC-BuyersGuide – information guide for buyers