It is now official. You can go to get your travel id and be ready to make it through airport security without a hitch.
The REAL ID Act of 2005 has officially enacted the required use of specific forms of identification to be accepted for travel and the requirements go into effect October 2020 and only the AZ Travel ID, US Passport or other federally approved identification will be allowed by TSA for domestic travel.
Don't get caught short. Click here to see more information from ADOT to see how to get yours.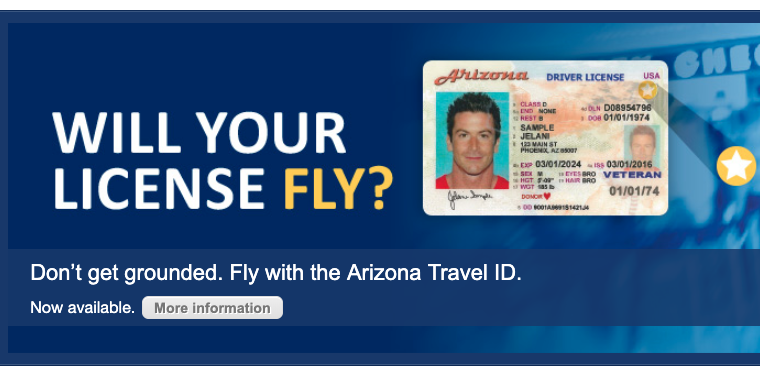 Good news – The Travel ID can double as a drivers license.
Bad news – If you show up at the airport trying to get through security using your old school drivers license after Oct. 2020 you will be disappointed.
Good news – The Travel ID is voluntary, you don't have to get one.
Bad news – There is an additional cost to get one done. The MVD charges $25 and you can make an appointment at your local office to get yours.
Good news – You don't have to make an appointment if you use one of the many Authorized Third Party providers that are open usually 6 days a week and have much shorter lines than the MVD offices.
Bad news – You will pay extra for the convenience of getting in and out. One office I went to got me in and out in 10 minutes with my questions answered and an application in hand, but it will cost $52 to get my Travel ID done there.
For more information on the READ ID Act of 2005 click here to go directly to the Department of Homeland Security.
#ADOT #REALIDAct2005 #TSA #PHX #PhoenixSkyHarbor #DriversLicense #AirTravel #Vacation #LayaGavinSellsHomes #YourAZRealtor #LovEXIT #TeamEXITRealty
Author: Laya Gavin
AZ Homes For Sale – Laya Gavin – REALTOR / Owner
Your Local Real Estate expert in Sun City, Sun City West, Sun City Grand, Surprise, Goodyear, Glendale, Avondale, Peoria and the surrounding cities of the Valley of the Sun. Dedicated to making sure you are working with a knowledgeable, local real estate professional, serving your best interests. To discuss your Real Estate needs, feel free to give me a call or text me Laya Gavin at (623)340-7067.